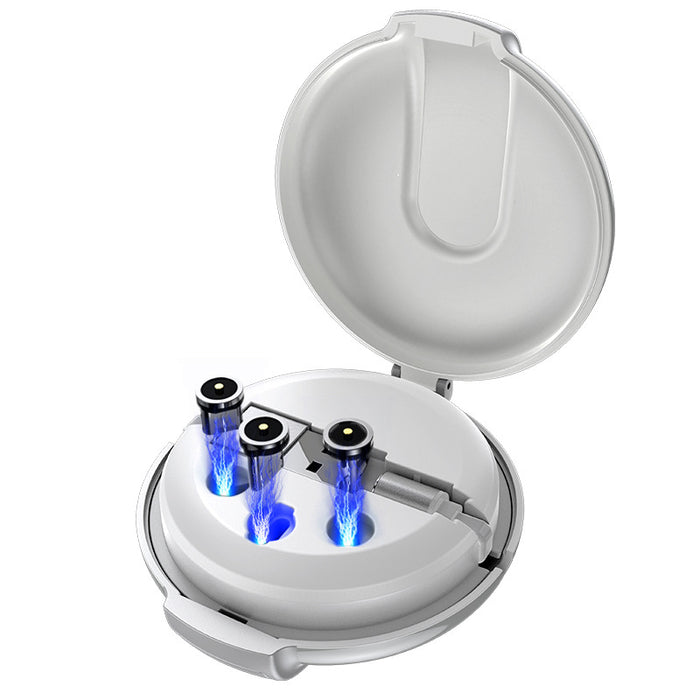 3 in 1 Fast Charging Data Cable
Are you sick and tired of carrying around a different charger for every device? Or spending 15 minutes untangling the ball of cords in your bag just to charge your phone? Well the 3 in 1 Charging Data Cable will make make charging your devices hassle free. This one cable device can replace all of your chargers. Plug it into any computer, charging block or power bank. You don't need to deal with knotted cords any longer!
Features
3-in-1 design - includes 8PIN, Micro USB, Type-C cords 
Magnetic function - seem-less change from one connector to another 
Portable - fits in your bag or pocket, will roll into itself using a telescopic line so you won't have to deal with knots
Compatible with Android and IOS devices 
3 colors - White / Black / Red 
Types of Connectors
Micro USB- Popular connector in tons of devices from Andriod phones like Samsung, Redmi, One Plus to external battery packs, bluetooth headphones and vaporizers

USB C (Type C) - Devices like wireless mouse, keyboards, speakers and smart home devices, desktops, mobile devices like Xiaomi, Huawei, Samsung 

8PIN - For IOS devices 
Specifications
Product volume 12.5 cm * 10.0 cm * 3.5 cm
Interface: 8PIN, Micro USB, TYPE-C
Length: 1m
Applicable models: General
Number of branch connectors: one for three
Material: Engineering Plastic
Input standard: DC5V-2.4A
Output standard: DC5V- -2.4A
What's in the box?
1 * 3-in-1 Fast Charging Data Cable 
3 * connectors (Micro USB, 8PIN, Type C)
Please allow 2-3 weeks for delivery to the United States, United Kingdom, Germany, France, Belgium, Italy, The Netherlands, Australia and Mexico. Please allow 2-6 weeks for the rest of the world. 
If you have any concerns about our shipping or store policy, please visit our shipping policy page to get more details. 

Buy With Confidence 
Safe checkout via Paypal & Stripe 

Tracking number with each order 
Any questions or concerns contact support@cooltrends.com
No hidden fees