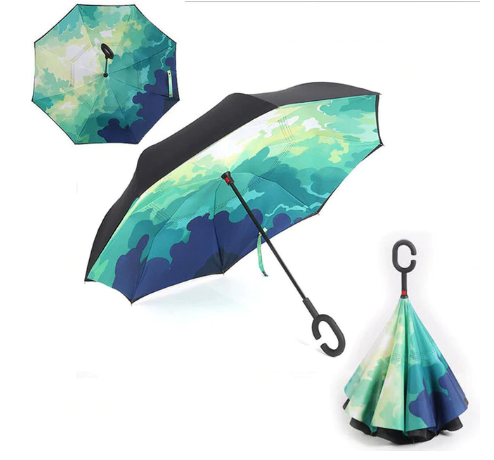 C-shaped Double Layer Reverse Umbrella
Created and designed to be versatile, durable, and comfortable to hold. This C-shaped Double Layer Reverse Umbrella will be your first line of defense against the sun's harmful rays and torrential downpours! Made of premium material, these umbrellas are sturdy, corrosion-resistant and have a double layer canopy design. The ergonomic C-shaped handle allows you to walk comfortably, hands-free, so that you can talk on the telephone, hold grocery bags, the baby, or even your child's hand while walking.  

Umbrella Features

Inside out design

Double layer 

With a simple click and push

Waterproof and windproof
Package Includes
1 x Original Double Layer Umbrella 
Note: Due to high demand we are running low on stock, please place your order while supplies last. Over 50% off today!
✈ Depending on where your order is being delivered, please allow 2-4 weeks for this item to arrive. This is due to the current global situation.