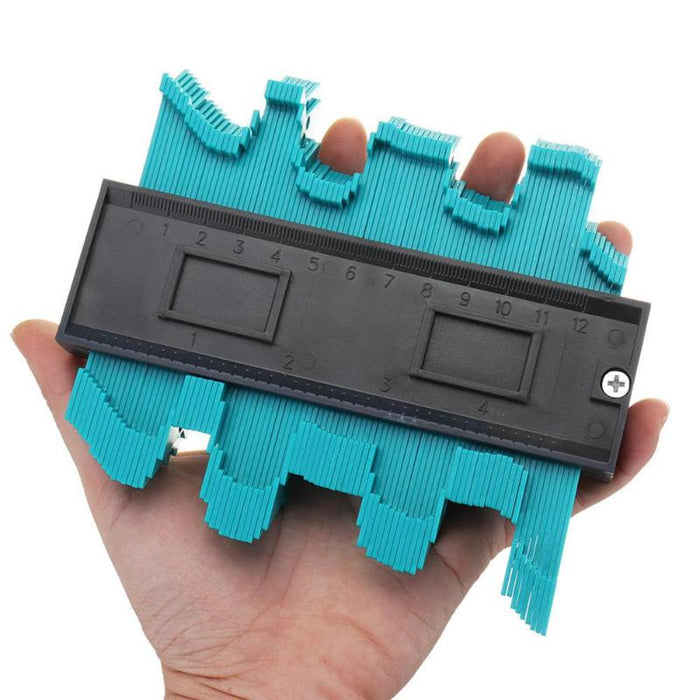 Trying to duplicate profiles and contours on your woodworking or auto body projects? The Corner Contour Gauge lets you work with less hassle to copy  exact measurements and shapes with ease, every single time! This gauge can be used to measure the shape of irregular items to create an instant template for marking precise cuts as it perfectly conforms to shape and holds its pattern.
Video:  
Features & Benefits:

Designed for winding pipes, circular frames, ducts and many other objects
Ideal for fitting tiles, laminate, carpet, checking dimensions, molding, etc.
Ruler markings to make measuring and cutting easier

Includes a magnet which can stick to iron products
Made of high quality, strong, durable and anti-rust plastic material
Professional tool for commercial or occasional use
Easy to use:
Press the teeth against the object to match the contour and then trace the shape you need.
Designed to go around pipes, round frame, conduits and many objects.
For any kind of work that needs contour duplication. In woodworking, auto body, auto metal sheet, stainless steel or any job of contour duplication.
Specifications: 
Material: ABS plastic
Color: Blue
Sizee: 150mm*110mm*20mm, 6*4.3*0.8 inches
Measuring range: 0-120mm
Scope: 0-120mm
✈ Depending on where your order is being delivered, please allow 2-4 weeks for this item to arrive. This is due to the current global situation.

Supplier Images: