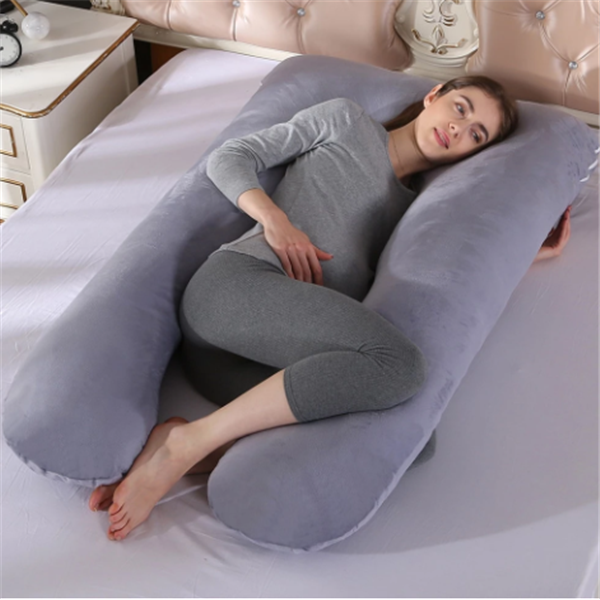 Maternity Support U-Shaped Body Pillow
Nurture yourself through your pregnancy with some extra oh-so-comfy Maternity Support U-Shaped Body Pillow. It's designed to follow the curve of your body that you can use it as support between your ankles and thighs, as a neck-rest, and especially under your growing belly, to relieve pressure. The pillow not only gives you that feeling of support when you snuggle down to sleep, it helps to align your back and improve your posture as you carry the extra weight of your new little bundle, also encouraging better circulation. You can also use this pillow to support yourself and baby when you breastfeed. 
Why use our pillow? 

Large size of the U-shaped pillow with ergonomic design

Suitable for pregnant women, mothers and side sleeper

Can be used as a back cushion, soft and practical

The curved end design can keep the leg apart naturally
Pillow Specifications
Size: 70 x130 cm

Shape: U-shaped

Grade: Qualified

Pillow core fabric: cotton / crystal velvet
Free shipping included with this item 
Please allow 2-3 weeks for delivery to the United States, United Kingdom, Germany, France, Belgium, Italy, The Netherlands, Australia and Mexico. Please allow 2-6 weeks for the rest of the world. 
If you have any concerns about our shipping or store policy, please visit our
shipping policy
page to get more details.  
Buy With Confidence 
Safe checkout via Paypal & Stripe 

Tracking number with each order 

Any questions or concerns contact support@cooltrends.com

No hidden fees