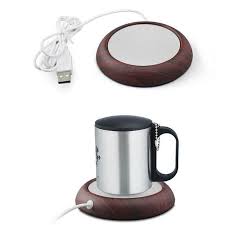 The Toasty Wooden Cup Warmer is the ideal spot for sitting a cup of coffee, tea, hot cocoa & any other beverage that needs to be kept warm! This durable drink warmer is made of high-quality wood and aluminum plate and features a soft, anti-slip felt base. It heats evenly and is safe to use! Perfect for use in the home, the office or even outdoors, this drink warmer will always keep a cup of warm beverage on reserve, no matter where you are! Its small, portable size means that it is easy to carry with you anywhere and anytime. 
Features:
It's easy to use and so convenient
5 V USB port output
Lightweight and compact size
Easy to carry and fits most stainless steel tumblers, etc
Keep your coffee, tea or other hot drink warm
Ideal for use at home and in the office, keeping your cup warm in cold weather.
Specification: 
Power: 5 W 
Voltage: 5 V 
Current Rating: 1000mA 
Maximum Working Temperature: 80 ° 
Width Wood grain: approx. 16 mm / 0.62 inch 
Diameter of the metal plate: approx. 75 mm / 2.95 inches 
Whole diameter: approx. 103 mm / 4.05 inches 
Weight: Approx. 108-109g
Package Includes:
1 x Toasty Wooden Cup Warmer (Mug not included)
✈ Depending on where your order is being delivered, please allow 2-4 weeks for this item to arrive. This is due to the current global situation.