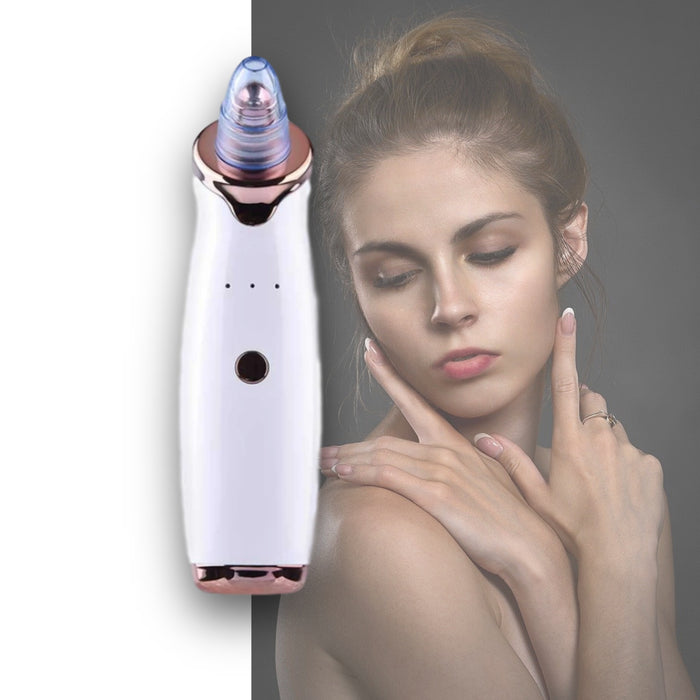 Revitalize and rejuvenate the skin. The Vacuum Pore Cleaner is safe and harmless to your skin. The pore cleaner deeply and effectively cleanses blackheads, needless oil secretion, and pore garbage, improves blood circulation of the skin which promotes overall skin health. The wireless design makes it portable and easy to use anywhere and anytime you want. 
Video: 
Features:
Deep-pore cleansing thanks to vacuum technology
Effectively tackles skin impurities and promotes a healthy-looking complexion
Improves blood circulation
Portable & easy to use
How To Use: (4 Steps)

Clean your face, use a facial steamer to open the pores.

According to your requirements, choose among the different levels of suction. Start with the lowest.
Move the blackhead cleanser back and forth around the pore with a constant speed, slowly move, do not stay in one place for too long to avoid injury, and do not press it hard or pull vertically.
After washing your face, please use ice towel or cold water or shrinking liquid to restore the treated pore.
Package Includes:
Microcrystalline Probe x Oval probe x Small circular probe x Large size circular shape probe x Small Pointed Probe x Sponge x Silica gel ring x USB charging wire x 1 Management Guide
✈ Depending on where your order is being delivered, please allow 2-4 weeks for this item to arrive. This is due to the current global situation.
Supplier Images:  
Note: Free shipping included with this item